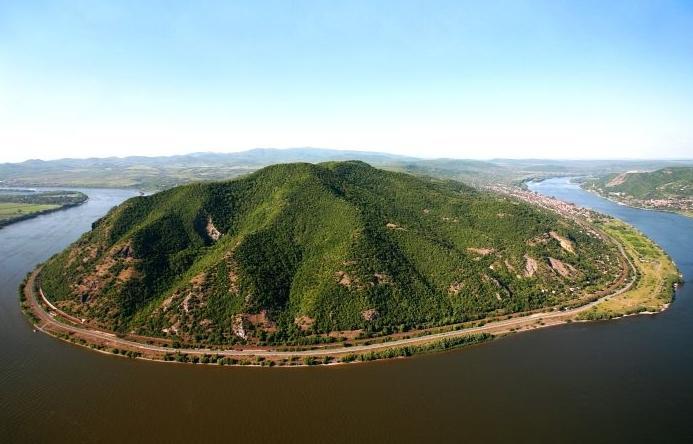 source: nagymaros.utisugo.hu
We had two options. 1. Risk getting lost in the woods at night without a torch 2. Go down to the main road and take the bus back to where we left the car.
We chose the second option, which of course didn't prevent us from getting lost in the woods at night without a torch later on, but that's a different story.
The story for now is that the bus was not going to come for another 40 minutes. So we decided to hitch a ride. She did the hitching, I did the waiting, which proved to be a very effective division of labour as the first car passing picked us up.
It was a couple from Nagymaros on a Sunday afternoon cruise along the mighty Danube. On our short journey together between Dömös and Pilismarót, I didn't fail to ask them what life in Nagymaros was like.
A town of less than 5000 inhabitants, geographically close to Budapest and yet somewhat isolated from the rest of the country, I was expecting a bitter reply.
It was anything but.
They talked about the beautiful view of the Visegrád castle they got to see every morning, the river they had access to any time and the secretive Börzsöny Mountains at a stone's throw away. They said we'd have to visit the outlook at some point and experience the breathtaking view. I promised we would.
Don't think that wealth and comfort was talking out of these guys. They probably had jobs, I'll give you that, but they were ordinary middle class people. Which is why it was so refreshing to hear them talk about the place they called home with so much love and enthusiasm instead of the usual moaning and depression you'd get if you put the same question to people from most small villages in Hungary.
Maybe even that is not true anymore. Maybe most people in small villages are not depressed about their lives anymore. I'd certainly like to believe that.
Last week, I spent a few afternoons moving from one spot to another in the city, working in the outdoors, enjoying the gentle warmth of the sun. It was the first time I fully appreciated the newly refurbished Kossuth tér and the strangely pleasant Bálna.
At the weekend I visited the Simon Hantai exhibition in the Palace of Arts and listened to a new age band playing inside the exhibition area of Ludwig museum.
source: wunderskatz.com
I know, winter is coming, Hungary doesn't equal to Budapest, and there are lot's of problems to be solved. In the six weeks I've been home, I've gone on a short trip abroad and am already planning the next bigger one.
But to the hundreds of thousands of people who want to leave Hungary because everything is shit here, I have one thing to say:
Think again bro. You don't know what you're saying.