I've been on the road for hardly two months so what I'm saying here is by no means my final verdict, but so far I'm very glad I chose minimalist travel as opposed to carrying everything I "need".
The bag
Buying a bag was a tough choice. I had no idea what I wanted. I didn't even know if I wanted a suitcase or a backpack. I would have loved a suitcase because you can dress fairly smart with it and still not look stupid, which is not the case with a backpack. On the other hand, dragging a suitcase around half of South America didn't seem such a great idea.
So I tried to find an elegant backpack, which seemed a pretty daunting task. (At the time I didn't know about this one of course)
One thing I knew I didn't want to check my bag on flights, which means 10kgs and 55x40x20 dimensions.
I ended up buying the Osprey Farpoint 40.  It's a good bag. I'm convinced that it packs more than a suitcase of similar size and is just as easy to load and unload because of its front opening.
One thing to keep in mind is it definitely looks more elegant in the pictures than it does in real life. When I fill it right up, it looks a bit like a big ball and if I don't it looks like a tent that's just collapsed. It also has too many branding images to my liking.
On the upside, you can wear it like a sports bag on one shoulder and as a regular backpack as well, which has been a very useful feature to me.
40 litres and 10 kg may not sound like much but it's actually been enough for all my stuff in the past two months. Which includes my laptop, an extra pair of shoes and clothes enough to wear for a week.
Two months, 6 places to stay
I moved to a new place every other week on average in the last two months and I'll be moving more frequently in the coming weeks. For some travellers this might seem like a low number, which it is. I'm taking it slow intentionally. Travelling for me is not about going to as many places as possible, but rather getting to know a few places and living like a local as opposed to being a tourist.
If you factor in that I spent these two months in Quito, moving to a new place every second week might seem strange or even pointless.
However, living in different parts of the city allowed me to really get to know it in a short period of time.
The first two weeks I spent near the famous Mariscal area, which was fun and very convenient, but the pollution was killing me. I tried running in the streets once, but all the smoke I inhaled gave me a headache so I never tried again.
Then I spent a couple of weeks in one of the most exclusive neighbourhoods of the city, Campo Alegre. This place was something else. No pollution, beautiful parks and safe streets even at night. Only it was far from everything.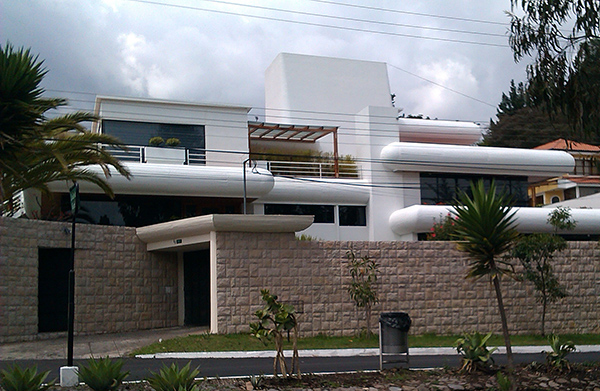 So I moved to a place that promised luxurious views, wifi and good location.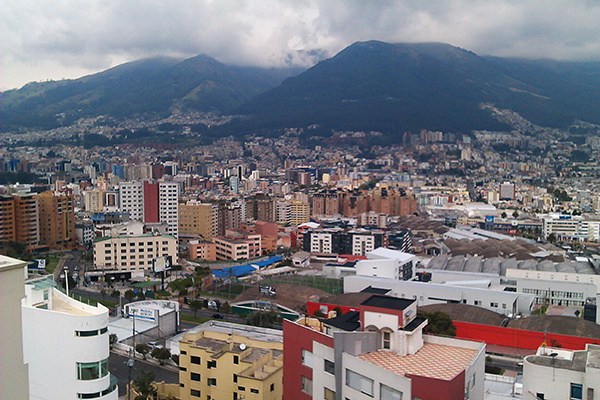 It lived up to the promise as far as the view was concerned. The wifi was slightly less great as it worked everywhere except in my room. The biggest problem was still the fact that I paid for a private room and got a shared one.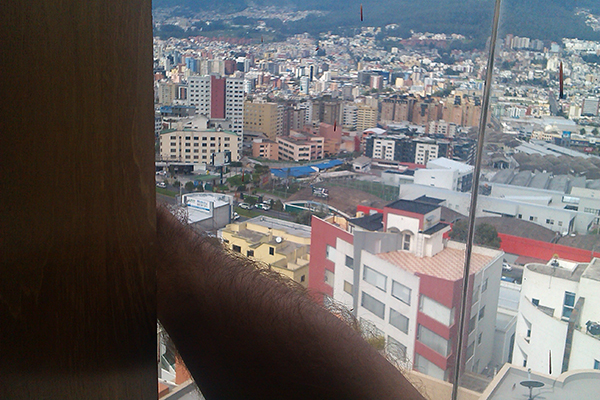 The two rooms were actually one big room separated by a thin mdf board, but the guy building it must have run out of material and left a 15 cm gap at the window. So I could easily reach into the "other" room and hi-five its resident, which was fun at first. But when I couldn't sleep all night because of her snoring, I had to get out out of there.
If I had tons of luggage, I would have been well pissed by this whole incident. But thanks to my minimalist way of traveling, I packed up my stuff in no time and got the hell out.
I spent a few nights at another place, where I couldn't sleep because of the traffic. In Ecuador, you can't close most windows completely so they don't filter the noise at all.
I've eventually found a place I like very much. It's right next to the traditional market with tons of fruits and fresh produce for sale and it's also 5 minutes away from Carolina park, where I go running.
The upside of minimalist travel
Minimalist travel sure has some downsides to it. But the freedom and mobility it gives you is priceless. You can be on the road literally within minutes. Moving to a new place is not a hassle, but rather like a walk in the park. This level of mobility changes your perspective and puts you into a better position if you have to negotiate or decide about staying or going.